Ukrainian fencer Olga Kharlan has been disqualified for refusing to shake hands with Russian Anna Smirnova at the World Fencing Championships.
Kharlan, the first fencer to face a Russian or Belarusian since the former's full-scale invasion of her homeland, won 15-7 in Milan.
The 32-year-old rejected Smirnova's handshake afterwards, instead offering her sabre to tap blades.
It led to an appeal from Smirnova, who staged a 45-minute sit-down protest.
"My message today is that we Ukrainian athletes are ready to face Russians on the sports field but we will never shake hands with them," Kharlan said afterwards.
Smirnova, competing under a neutral flag, remained standing on the piste following the first-round contest before being handed a chair as her protest continued.
Her appeal looked to have been dismissed, with Kharlan still showing as through to the last 32 when Smirnova eventually walked off after being spoken to by an official, allowing the next bout to start.
However, the results later showed that Kharlan, a four-time individual world champion and four-time Olympic medallist, had been disqualified from the women's sabre individual.
Kharlan claimed that Emmanuel Katsiadakis, the president of the International Fencing Federation (FIE), had assured her that it was "possible" not to shake hands and offer a touch of her blade instead.
"I thought I had his word, to be safe, but apparently, no," Kharlan added.
The International Olympic Committee (IOC) has called upon sports federations to handle Ukrainian athletes and Russians competing as neutrals with "the necessary degree of sensitivity" following Kharlan's disqualification, adding: "We continue to stand in full solidarity with the Ukrainian athletes and the Olympic community of Ukraine."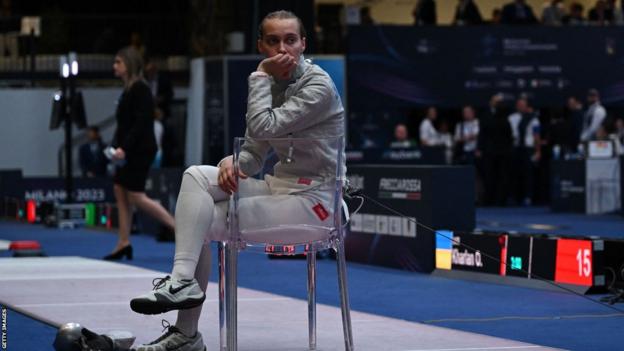 In fencing, shaking hands is part of the rules of the sport and refusal to do so results in a black card and expulsion.
Kharlan's scheduled last-32 opponent, Bulgaria's Yoanna Ilieva, advanced as a result.
Ukrainian fencers have not competed where rivals from Russia and Belarus have been permitted to enter as neutral athletes since Russia's full-scale invasion in February 2022. Belarus is a key Russian ally and served as a launchpad for the invasion.
However, the Ukrainian government updated its position on Wednesday, granting permission for its athletes to compete against Russians and Belarusians who participate as neutrals, as is the case at the World Fencing Championships.
Mykhailo Podolyak, the adviser to Ukraine president Volodymyr Zelensky, shared a photo on his Twitter feed which appeared to show Anna Smirnova with a Russian soldier.
"The photo features Anna Smirnova, the Russian fencer who Ukrainian Olga Kharlan refused to shake hands with at the World Championships after winning a fair bout," Podolyak said.
"As you can see, she openly admires the Russian army, which is killing Ukrainians and destroying our cities. The International Fencing Federation (FIE) disqualified the Ukrainian representative for not shaking hands with the Russian," he added.
"FIE should this be taken as a position? Doesn't Russian money smell of blood?"
Mykhailo Illiashev, president of Ukraine's fencing federation (NFFU), said the organisation would be appealing against Kharlan's disqualification.
Kharlan's Ukrainian team-mate – Tokyo 2020 bronze medallist Igor Reizlin – was scheduled to take to the piste against Russian Vadim Anokhin on Wednesday but did not present himself, subsequently forfeiting.