Red Bull's Max Verstappen equalled Ayrton Senna's career total of 41 victories with a dominant win at the Canadian Grand Prix.
The Dutchman's sixth triumph in eight races this season gave him a 69-point lead in the championship and was the 100th victory for his Red Bull team.
Aston Martin's Fernando Alonso passed Lewis Hamilton's Mercedes on track to win a battle for second place.
Ferrari's Charles Leclerc recovered from qualifying 11th to take fourth.
Verstappen's winning margin of 9.5 seconds was the smallest a Red Bull has had over another team so far this season, giving encouragement to the chasing pack.
But it was clear that 25-year-old Verstappen had not needed to extend himself and could almost certainly have won by a far larger margin.
And his achievement in matching Senna's career achievement when nine years younger than the legendary Brazilian was when he was killed in a crash at the 1994 San Marino Grand Prix, underlined the way he and Red Bull have dominated F1 for the past two seasons.
It also raises the question of where Verstappen's career statistics may end – only Alain Prost, Sebastian Vettel, Michael Schumacher and Hamilton are ahead of him in victories and Prost's mark of 51 and even Vettel's 54 may be reachable during this season, depending on the level of his dominance.
Verstappen converted a brilliant pole position won in the wet, 1.2 seconds clear of the field, into a lead at the first corner and never looked back as he measured his pace to the intense battles behind him.
A fight between legends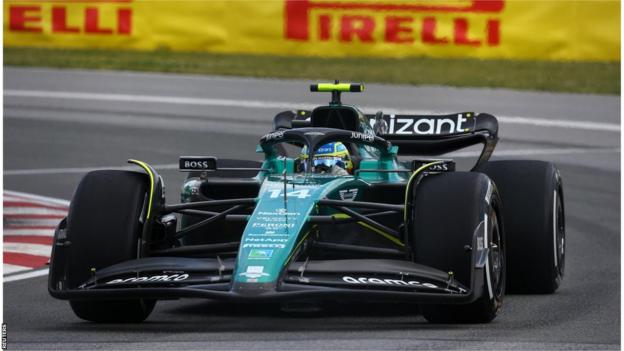 Hamilton started third, one place behind Alonso, but the Mercedes driver passed the Aston Martin into the first corner after a strong start.
Alonso tracked the Mercedes closely for the first part of the race, occasionally threatening down the back straight before the final chicane.
But Hamilton managed to hang on in second until a safety car was called on lap 12 when the second Mercedes driver George Russell hit the wall at Turn Nine, leaving debris on the track.
At the restart, Alonso began to challenge the Mercedes more closely and after a few laps of pressure edged close enough to pull a move into the final chicane on lap 23.
From then on, Alonso edged clear and although Hamilton switched to the medium tyres at his second pit stop while the Spaniard stuck with the hards they had used for their second stint, the seven-time champion could do nothing about his old rival.
In the final laps, Hamilton was told Alonso appeared to be nursing a rear brake problem. The Briton moved back towards him, but Alonso then began to edge away again as the three biggest names in F1 completed an all-star podium.
Russell remarkably rejoined after a pit stop following his collision with the wall and ran beyond three-quarters distance before Mercedes asked him to retire the car.
A strong fightback from Ferrari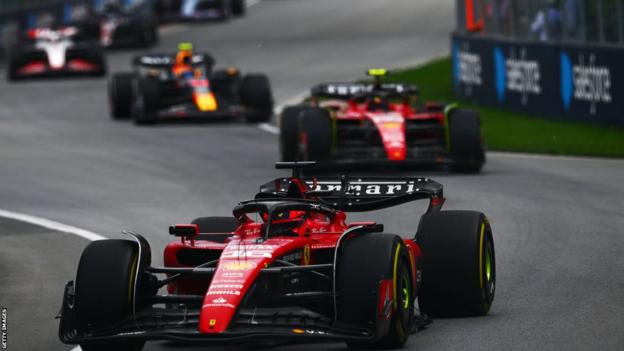 Behind Alonso and Hamilton, Leclerc and team-mate Carlos Sainz recovered well from a difficult qualifying session that left them 10th and 11th on the grid.
Ferrari chose not to pit under the Russell safety car, switching to a one-stop strategy and running an impressively long first stint on the medium tyres to bring Leclerc into contention for the final podium position.
After their pit stops, Leclerc began to close on Hamilton heading into the final 30 laps and it looked as if Ferrari may be able to grab third place.
But Hamilton upped his pace to show he had things under control and although Leclerc stayed more or less within range of the Mercedes, he had to be content with fourth. Sainz followed him home in fifth, ahead of the second Red Bull of the underwhelming Sergio Perez in sixth.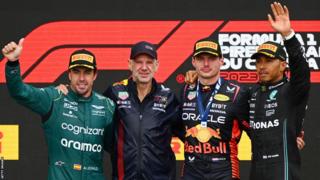 That's 11 world championships between the three drivers on the podium and 23 titles (11 driver, 12 constructor) for Red Bull chief technical officer – and design guru – Adrian Newey
The rest
Alex Albon capped an impressive weekend, in which he had been fastest of all in the damp second qualifying session, to take seventh in the heavily upgraded Williams, the pace of which impressed rival teams and suggested an upturn in form as the season heads into its European summer phase.
The British-born Thai driver held on impressively in the closing laps under pressure from Alpine's Esteban Ocon, McLaren's Lando Norris, Alfa Romeo's Valtteri Bottas and Aston Martin's Lance Stroll.
Norris passed Bottas with six laps to go to finish ninth on the road and threatened Ocon for eighth, even radioing about a wobbly rear wing on the Alpine in the vain hope Ocon would be forced to pit.
But although he finished ninth on the road, just failing to pull off a pass on Ocon into the final corner of the final lap, Norris dropped to 13th in the classification because of a five-penalty for unsportsmanlike conduct.
It was triggered by him slowing down and holding other drivers up on his way into the pits under the safety car to avoid a "double-stack" pit stop with team-mate Oscar Piastri.